Discover more from The Sunday Drive by Mike Allison
Weekly Insights from a Financial Provocateur | Mike Allison, Founding Partner of New Lantern Capital, LLC
Sunday Drive - 11/6/2022 Edition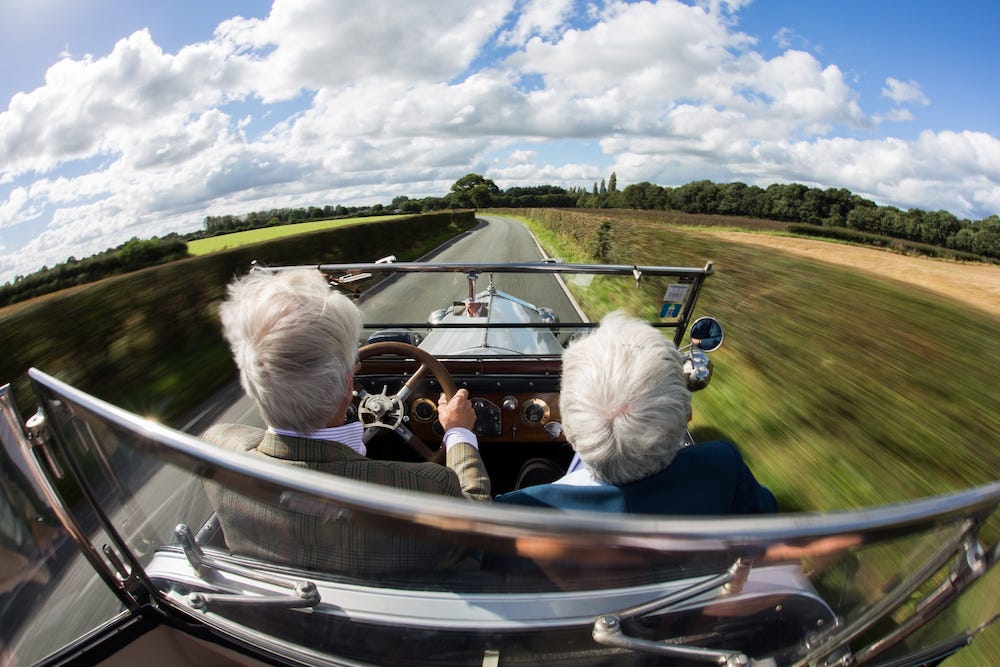 👋🏻 Hello friends,
Greetings from Saratoga Springs, NY!  Let's take it easy and enjoy this week's leisurely Sunday Drive around the internet.  
Vibin'‌
The Vibe of the Week is When the World is Running Down, You Make the Best of What's Still Around by The Police from their 1980 album Zenyatta Mondatta. Despite the very cool groove, the undertone is one of angst and uncertainty...and yet there is also a whiff of hopefulness as well. Typical of The Police...
Given ongoing questions that so many have about the inflationary backdrop in today's economy and global central banks' efforts to counter it, as well as the focus on the upcoming mid-terms elections, I thought it was a pretty good fit this week.
💡  Quote of the Week‌
"Time is what we want most, but what we use worst."
- William Penn
📈  Chart of the Week
Lots of Watergate Babies in this week's Chart.
As I often remind my children, who are now 24 and 22, the crop of politicians that rose to power during the mid-1970s in the wake of the Watergate Scandal will start being replaced by Gen-Xers and older Millennials in the near future.
Leaders who espouse new ways of thinking, organizing, and serving others will start running for office in the coming decade. Change is good, and we could use newer, fresher voices of leadership.
It's another example of the current "Winter" season - the Fourth Turning - which I discussed in a previous Sunday Drive.  By the end of the current decade, I believe that the new "Spring" season will arrive, and a new Saeculum will begin.
Interesting Drive-By's
💰  The Money Value of Time - Money [...] serves a singular purpose: to be exchanged for experiences. The difference is whether you intend to exchange those dollars for experiences now or later.
While the value of your money may grow over time, your ability to exchange that same money for experiences decreases over the same period.
💡  Public Utility Commission allows GlobalFoundries to set up its own electric utility - VT state regulators have cleared the way for GlobalFoundries, the Essex Junction semiconductor manufacturer, to set up its own electric utility — allowing the company to buy most of its power directly from ISO New England, the regional grid operator, rather than from Green Mountain Power.
🤓  Expectations and Reality - In 2004 the New York Times interviewed Stephen Hawking, the late scientist whose motor-neuron disease left him paralyzed and unable to talk since age 21.
Apparently in a good mood, the Times asked Hawking: "Are you always this cheerful? Seriously, how do you keep your spirits up?"
"My expectations were reduced to zero when I was 21," Hawking said. "Everything since then has been a bonus."
Quite a lesson, isn't it?
And it's one that applies to a lot of things.
📈  Outsourcing Volatility - In an increasingly complex world, it's tricky to figure out what to do next without getting "killed."
One way to do it: Outsourcing volatility. China's doing it, and so can you. Maybe!
📱  The Rise of the Digitally-Native Job - I'm fascinated by job titles that are digitally-native—that wouldn't exist without the internet or, often, without a specific underlying tech company. Three examples:
Discord Community Manager—there are 19 million weekly active servers on Discord, and many employ managers to run the show

Roblox Developer—Roblox has 300,000+ developers building Roblox experiences

Etsy Seller—Etsy has 7.5 million active sellers from 234 countries
😳  The market's reaction to Fed Chairman Powell's press conference this week...
---
If you have any cool articles or ideas that might be interesting for future Sunday Drive-by's, please send them along or tweet 'em at me.
‌I hope you have a relaxing weekend and a great week ahead. See you next Sunday...
Your faithful financial provocateur,
-Mike‌
---
If you enjoy the Sunday Drive, I'd be honored if you'd share it with others.‌‌
If this was forwarded to you, please subscribe and join the other geniuses who are reading this newsletter.