Discover more from The Sunday Drive by Mike Allison
Weekly Insights from a Financial Provocateur | Mike Allison, Founding Partner of New Lantern Capital, LLC
Sunday Drive - 09/25/2022 Edition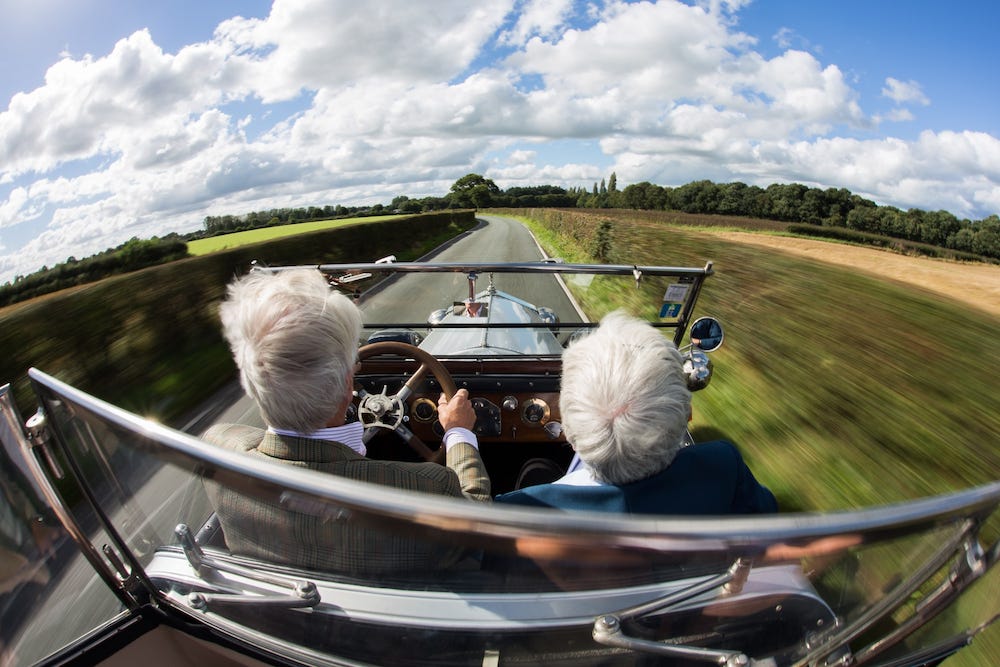 👋🏻 Hello friends,
Greetings from Saratoga Springs, NY!
It's been another rough week in the markets, so let's take it easy and enjoy this week's leisurely Sunday Drive around the internet.
Vibin'‌
The Vibe of the Week is a reminder of how topsy-turvy our investing world has become. This week's vibe is really about the chorus to the song, not really the verses. Please enjoy Bachman Turner Overdrive's You Ain't Seen Nothing Yet from 1974.
Stay buckled up. This roller coaster ride is far from over.
💡  Quote of the Week‌
"When you start a new trail equipped with courage, strength, and conviction, the only thing that can stop you is you."
- Ruby Bridges
📈  Charts of the Week
💭  Thought Bubble of the Week
We have two Charts this week. I included both to help make a point about where we are with the economy and financial markets, where we've been, and where we might be headed.
The second chart shows the Mother of All Bear Markets in bonds which lasted approximately 35 years. It also encompassed the prior two major inflationary periods - the mid 1940's to around 1950 and mid-to-late 1970's. The first chart depicts CPI from the end of WWII to the current time.
In the current bond bear market, as we see in the second chart, we've experienced the 3rd worst performance in bonds in our country's history - and it all has happened thus far in 2022. Yikes!
The magnitude of the decline in interest rates in the last four decades from their never-before-seen levels in the early 1980's drove the Mother of All Bull Markets in financial assets.
Most of us who have spent their careers working in the financial sphere have never known an investing environment that didn't include the tailwind of declining interest rates.
Where we go from here, in terms of the outlook for financial assets, is an open and interesting question.
Will it be a lost decade?
A lost generation?
A brief interlude of weakness until investments that drive productivity accelerate and drive renewed economic growth?
I wish I knew.
For the time being, my prescription remains the same...
Invest in our human capital - both in terms of longevity and skills.

Ask less of our financial capital until the financial markets are more balanced and offer better opportunities for investment returns.

Love, nurture and cherish our human relationships in a world that is increasingly driven by algorithms and artificial intelligence.
Interesting Drive-By's
🤔  To Retire or Not to Retire - A great article on the importance of getting the answer to What is your, What's Next?"
💡  Our Inflation Nightmare Will End in 6 Months - It's important to look under the hood of the recently announced August Core CPI number, and there's something a lot of people are missing. This missing link explains why, even though the core rate rose, inflation has in fact turned the corner.
🤓  A Thought From the Deep End of the Pool:
👀  Footage from a recent speech by Fed Chairman Jerome Powell:
---
If you have any cool articles or ideas that might be interesting for future Sunday Drive-by's, please send them along or tweet 'em at me.
‌I hope you have a relaxing weekend and a great week ahead. See you next Sunday...
Your faithful financial provocateur,
-Mike‌
---
If you enjoy the Sunday Drive, I'd be honored if you'd share it with others.‌‌
If this was forwarded to you, please subscribe and join the other geniuses who are reading this newsletter.