Discover more from The Sunday Drive by Mike Allison
Weekly Insights from a Financial Provocateur | Mike Allison, Founding Partner of New Lantern Capital, LLC
Sunday Drive - 09/11/2022 Edition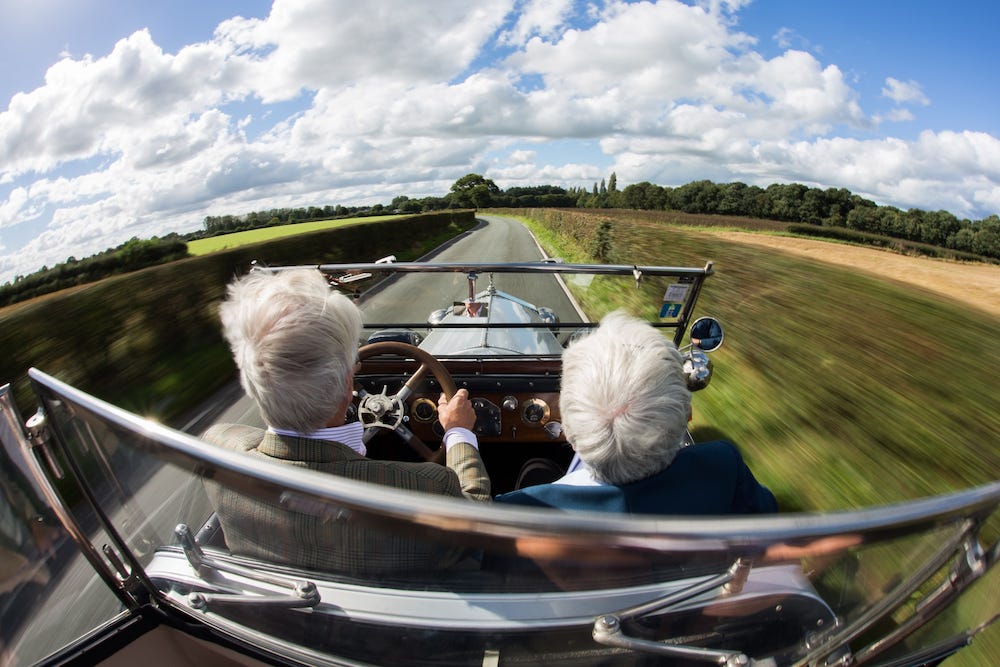 👋🏻 Hello friends,
Greetings from Saratoga Springs, NY! Take it easy and enjoy this week's leisurely Sunday Drive around the internet.
Vibin'‌
The Vibe of the Week is indeed a somber one. It is the 21st anniversary of the 9/11 attacks. For me, this day is always a solemn occasion and one that deserves proper remembrance.
However, also this week, the UK lost their longest serving monarch. Queen Elizabeth II died at the age of 96 after a 70-year reign as the Queen of England. I struggled with how to give both events the respect they deserve... Then I found this and it took my breath away.
In an amazing show of solidarity with her former "colony", on Sept. 12, 2001, Queen Elizabeth II broke a 600 year old tradition and asked that the Star Spangled Banner be played during the changing of the guard at Buckingham Palace. I remain in awe of the magnitude of this gesture by a truly great woman.
RIP Queen Elizabeth. Long may you ride in Heaven.
Quote of the Week‌
"It's worth remembering that it is often the small steps, not the giant leaps, that bring about the most lasting change."
- Queen Elizabeth II
Chart of the Week
Sometimes it's helpful to stand back at look at the "big map". The Chart of the Week is one that shows the magnitude of the decline in interest rates over the last four decades.
Starting periods matter.
The financial services industry as we know it grew in prominence from a starting place of never before seen levels of interest rates in the early 1980's. As interest rates declined over the last 40 years, it created the Mother of All Tailwinds for financial assets.
So here we stand today, with long term interest rates back to historical norms. The tailwinds have dissipated, and it is highly likely that for quite some time, we will not enjoy the levels of returns on financial assets to which we have all become accustomed.
Future returns on our human capital are another thing entirely, and something that I'm increasingly excited about, as my long time readers probably know. Demographically driven labor scarcity will lead to better financial and lifestyle outcomes for those who choose to "stay in the game" and look for better and better ways to monetize their human capital.
Interesting Drive-By's
💡  It's Supposed to be Hard - In 1990, David Letterman asked his friend Jerry Seinfeld how his new sitcom was going.
Jerry said there was one frustrating problem: NBC supplied the show with teams of comedy writers, and he didn't think they were getting much good material from them.
"Wouldn't it be weirder if they were good?" David asked.
"What do you mean?" Jerry asked.
"Wouldn't it be strange if they could all just produce reams of hilarious material day after day?"
Recalling the conversation a few years ago, Seinfeld laughed and told Letterman: "It's supposed to be hard."
👑  A 70-year reign, in numbers - All told, over her 25,782 days as monarch, Elizabeth II made 82 state visits, met with 5 popes, owned 40 Welsh Corgi dogs, met 13 US presidents (missing LBJ) and advised 15 different British prime ministers.
Her 70-year reign was the second longest of any monarch in history, only behind that of Louis XIV of France who was just 4 years old when he ascended to the throne.
Most British people have only ever known the monarchy with Queen Elizabeth at the helm, with around 80% of the population born after her reign began.  
🤓  The Long Tail and the Business of Niche - The concept of the long tail was popularized by Chris Anderson in an October 2004 article in WIRED. Anderson's opening lines read like a prophecy of YouTube, which would be founded the following year:
"Forget squeezing millions from a few megahits at the top of the charts. The future of entertainment is in the millions of niche markets at the shallow end of the bitstream."
---
If you have any cool articles or ideas that might be interesting for future Sunday Drive-by's, please send them along or tweet 'em at me.
‌I hope you have a relaxing weekend and a great week ahead. See you next Sunday...
-Mike‌
---
If you enjoy the Sunday Drive, I'd be honored if you'd share it with others.‌‌
If this was forwarded to you, please subscribe and join the other geniuses who are reading this newsletter.