Discover more from The Sunday Drive by Mike Allison
Weekly Insights from a Financial Provocateur | Mike Allison, Founding Partner of New Lantern Capital, LLC
Sunday Drive - 07/17/2022 Edition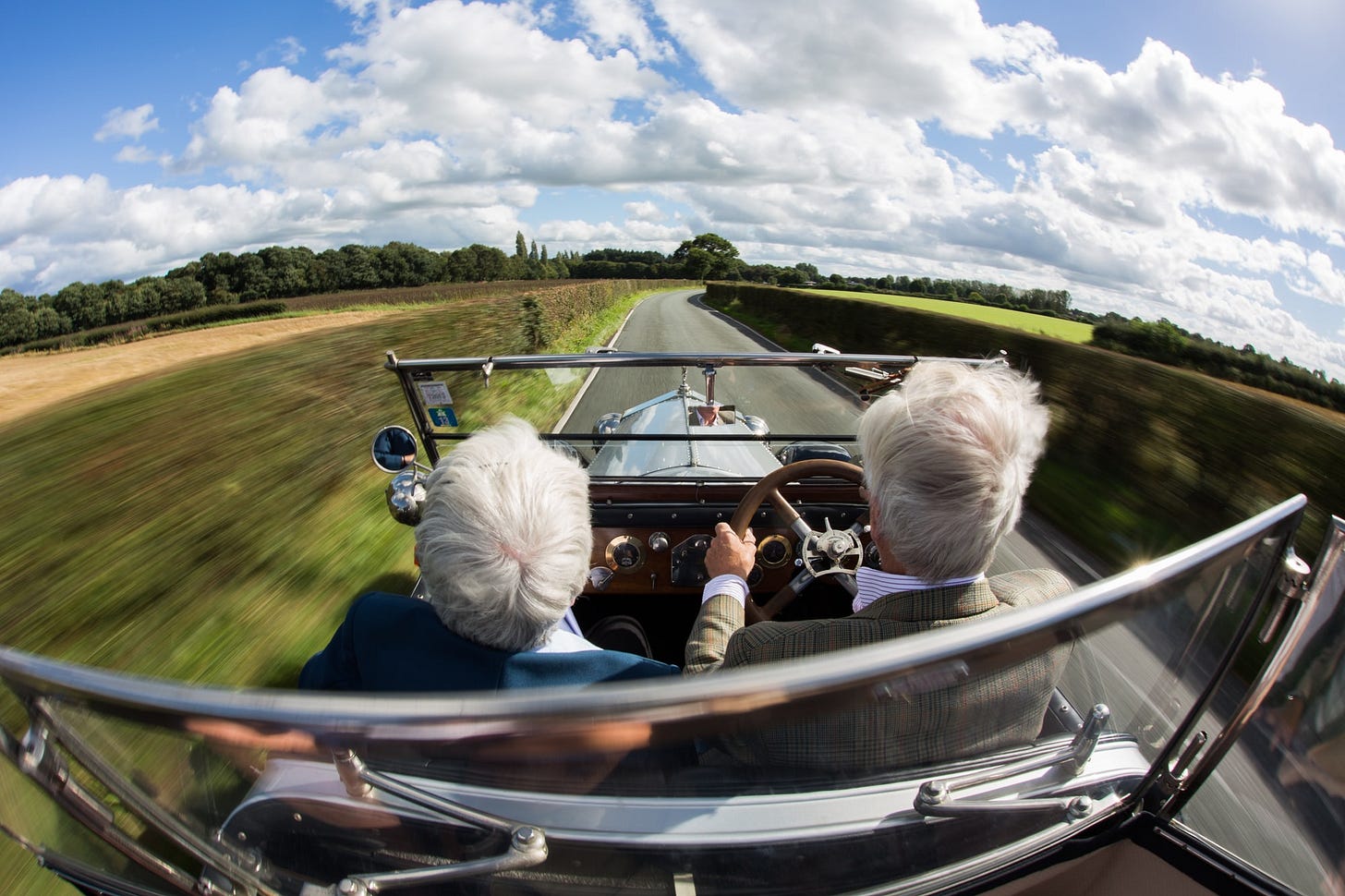 👋🏻 Hello friends,
Greetings from Saratoga Springs!
Take it easy and enjoy this week's leisurely Sunday Drive around the internet.
Vibin'‌
The vibe of the week is Home at Last by Steely Dan from their 1977 Aja album. The song is a nod to Homer's Odyssey. Listening to the first two lines of the chorus reminded me of two (very non-musical) things: 1) what seems to possibly be a stock market that is beginning to look to the other side of whatever sort of recession we are, or may soon be in, and 2), our risk management ethos at New Lantern Advisors.
Well the danger on the rocks is surely passed,
Still I remain tied to the mast.
Quote of the Week‌
"The secret to living longer and well is: eat half, walk double, laugh triple and love without measure."
- Tibetan Proverb
Bonus Quote of the Week‌
"I'm going to put all my money in taxes because it's the only thing guaranteed to go up."
- Ed Slott,  CPA
📈  Chart of the Week‌
This trend has been in place for over a decade, with only a brief COVID related interruption.
📈  Bonus Chart of the Week
Those who know me well, know that I am very process driven and that I love flow charts and rules based investing. So in honor of National Ice Cream Day, I give you this from our friends at fpPATHFINDER:
💭  Thought Bubble of the Week
This section of the Sunday Drive is intended to serve up seedling ideas which may ultimately grow into more fully developed pieces to be published on NewLanternAdvisors.com. I'd be most grateful if you'd share any thoughts, suggestions or feedback.
I continue to beat the drum of expecting a continuation of higher wage pressure - or as I refer to it, an upward repricing of Human Capital, largely at the expense of corporate profit margins, and thus earnings (see the chart below). I believe this upward pressure is demographically driven and secular in nature and could last for several years.
I also believe that until the line in the Chart of the Week above showing unfilled job openings heads in the other direction, the Federal Reserve Bank (the Fed) will have cover to continue to raise interest rates.
Putting on my Junior Armchair Economist hat... 🎓
The US economy is quite possibly already in recession - it will be official if second quarter GDP, the yet to be reported broad measure of economic growth, was negative as it was in the first quarter of 2022. However, I continue to be confident this recession will be more of a profits recession rather than the typical wage/labor recession, and thus fairly shallow and short lived.
Interesting Drive-By's
🤓  Quantifying Disease Risk Using Genomics - This interview discusses the concept of polygenic risk scores and how this lets us quantify how much your personal genetic configuration, as a whole, affects your risk for disease.
📈  24 Charts that Show We're (mostly) Living Better than Our Parents - Ignore the haters: living standards have improved a lot since the 1980s.
💰  Return on Effort - Jason Fried of 37 Signals discusses the term Return on Effort and how the company uses it as a measure of what they should be working on.
💡  A Recession Won't Bring People Back to the Office - Executives, landlords, and analysts think remote work is a temporary blip. They assume that as the economy slows down, employees will lose their leverage and come back to the office. This theory is based on a mistaken assumption. The main driver of hiring from anywhere is employers' need to access a bigger talent pool and, to a lesser extent, cut costs and increase their own flexibility.
⏰  Giving Voice to Your Internal Ageism - Metallica Style - The sooner growing older is stripped of reflexive dread, the better equipped we are to benefit from the countless ways in which it can enrich us.
And... couldn't resist sharing this last one.
---
If you have any cool articles or ideas that might be interesting for future Sunday Drive-by's, please send them along or tweet 'em at me.
‌I hope you have a relaxing weekend and a great week ahead. See you next Sunday...
-Mike‌
---
If you enjoy the Sunday Drive, I'd be honored if you'd share it with others.‌‌
If this was forwarded to you, please subscribe and join the other geniuses who are reading this newsletter.