Discover more from The Sunday Drive by Mike Allison
Weekly Insights from a Financial Provocateur | Mike Allison, Founding Partner of New Lantern Capital, LLC
Sunday Drive - 07/10/2022 Edition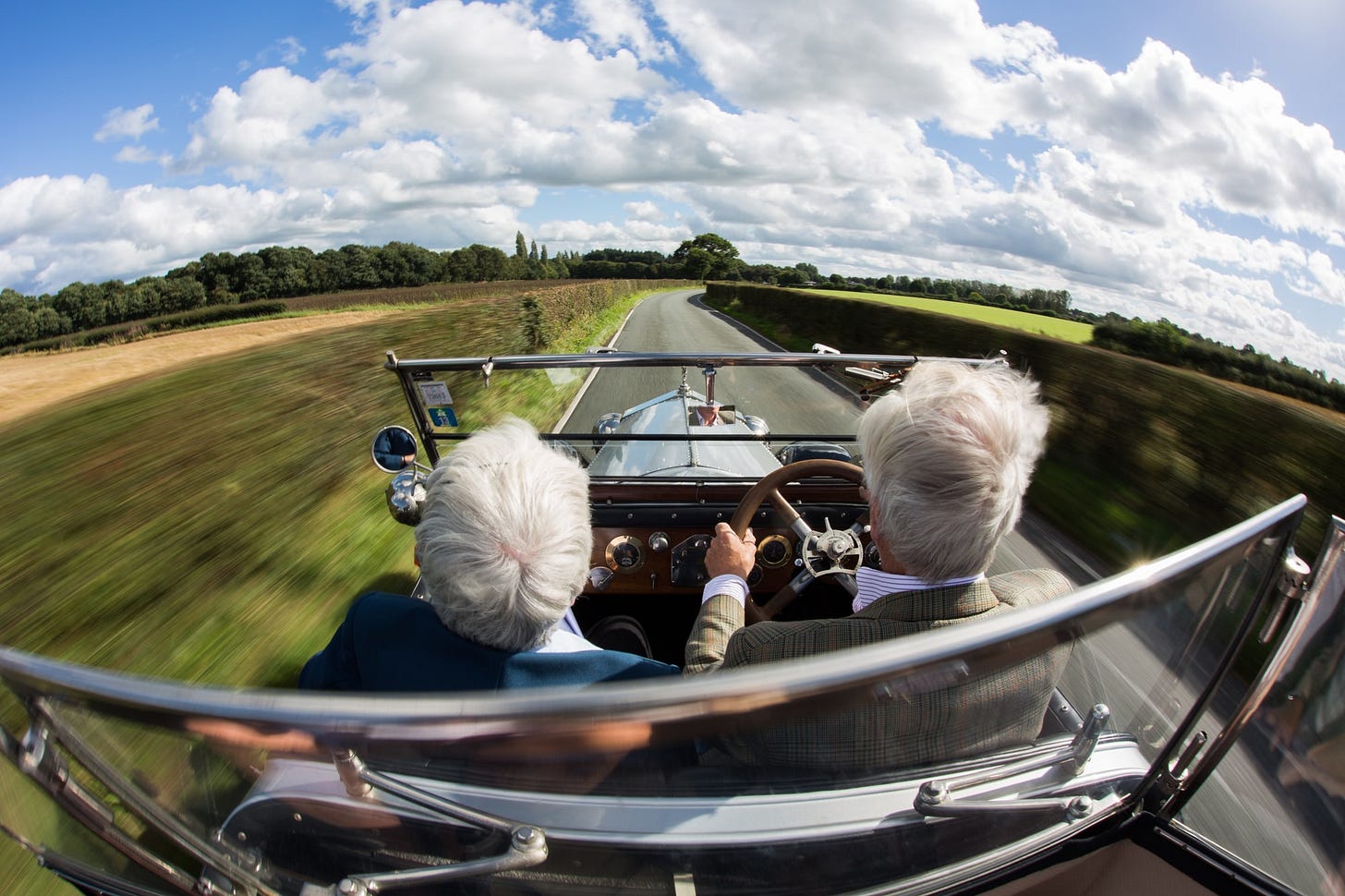 👋🏻 Hello friends,
Greetings from Saratoga Springs!
Take it easy and enjoy this week's leisurely Sunday Drive around the internet.
Vibin'‌
The vibe of the week is Take it to the Limit, a cover of the classic Eagles song by the incomparable Etta James. What I love about Etta, aside from her magnificent talent and soulful passion, is how convincingly she is able cover other artists' songs and makes them her own. She's done this with many tunes, but I thought her version of this Eagles song was a real standout. I recommend listening with headphones on and eyes closed. 😍
Quote of the Week‌
"There is a tendency to think we did everything right when we succeed, when often we only made the next-to-last mistake."
—Garry Kasparov ♜
Chart of the Week‌
All assets are priced relative to other assets. Most commonly in the US, we think of assets priced in dollars. A loaf of bread costs X dollars, etc. But what if we consider an asset priced in hours of work? I found this chart to be quite illustrative in showing the relative value of stocks (financial capital) versus average wages (human capital).
Bonus Chart of the Week
💭  Thought Bubble of the Week
This section of the Sunday Drive is intended to serve up seedling ideas which may ultimately grow into more fully developed pieces to be published on NewLanternAdvisors.com. I'd be most grateful if you'd share any thoughts, suggestions or feedback.
Two related ideas come together in this week's Thought Bubble and they are depicted in the Charts of the Week above. One idea is that financial capital is overpriced vis-a-vis human capital (labor) and due for a correction. The other idea is that financial market returns historically run in fairly long, low(ish) volatility cycles, interrupted by - sometimes also long - periods of choppy, volatile, and directionless market environments. These low return periods are where the real economy catches up to the financial economy and how financial markets and the overall economy stay in synch over time.
I really do believe that over the next five to ten years, we are likely to experience a period of repricing for human capital and financial capital relative to each other.
This could take one of two paths, or possibly both in sequence.
One path is for the financial markets to decline precipitously, continuing the experience of the last few months. We would see a profits recession but not a labor recession. This is the easiest path to observe and the more painful to live through.
The other path, and the one I would place a higher likelihood on going forward, is for financial markets to tread water with low, yet volatile, returns. Real wages (adjusted for inflation) will rise at an accelerating rate, driven largely by demographically driven labor shortages, as well as rapid productivity increases.
Once we reach a point where human capital and financial capital are more balanced in terms of their valuation relative to each other, we could see another "running of the bulls" in the financial markets.
Interesting Drive-By's
😢  RIP Prime Minister Shinzo Abe - Tragically, Japan's longest serving Prime Minister, Shinzo Abe, was assassinated by a lone madman this week. I'm quite sure he likely had his detractors, but frankly, my recollection of his tenure was that he served his country honorably and without scandal, a rarity in politics these days. This article by Adam Tooze offers a fact-based and dispassionate look at Mr. Abe's tenure as Prime Minister.
🤔   The Great Rehirement - What a difference a decade makes. One out of every four American employees aged 50 and older lost their job in the Great Recession in 2008. And, it took older workers two to three times longer to find a new job during the next few years. This sudden reality created a "confidence gap" for many midlife workers.
When the deep, immediate recession associated with the 2020 pandemic came along, many jobs were lost. However, this time, many older workers—with more than ten years of tenure—were at the leading edge of the Great Resignation. Roughly 2.4 million additional Americans retired in the first 18 months of the pandemic, making up most of the 4.2 million people who left the labor force between March 2020 and July 2021. Many HR execs lamented that they were losing so much institutional wisdom from these mass retirements.
💡  Funny thing about the crypto crowd - Now that the whole cryptocurrency thing seems to have gone the way of the dot coms (history repeating) 🔥, the crypto crowd runs to court to get their money back. Some things never change.
💰  This is all I have to say about Twitter and Elon. LOL
---
If you have any cool articles or ideas that might be interesting for future Sunday Drive-by's, please send them along or tweet 'em at me.
‌I hope you have a relaxing weekend and a great week ahead. See you next Sunday...
-Mike‌
---
Join the other geniuses who are reading this newsletter.‌‌