Sunday Drive - 07/03/2022 Edition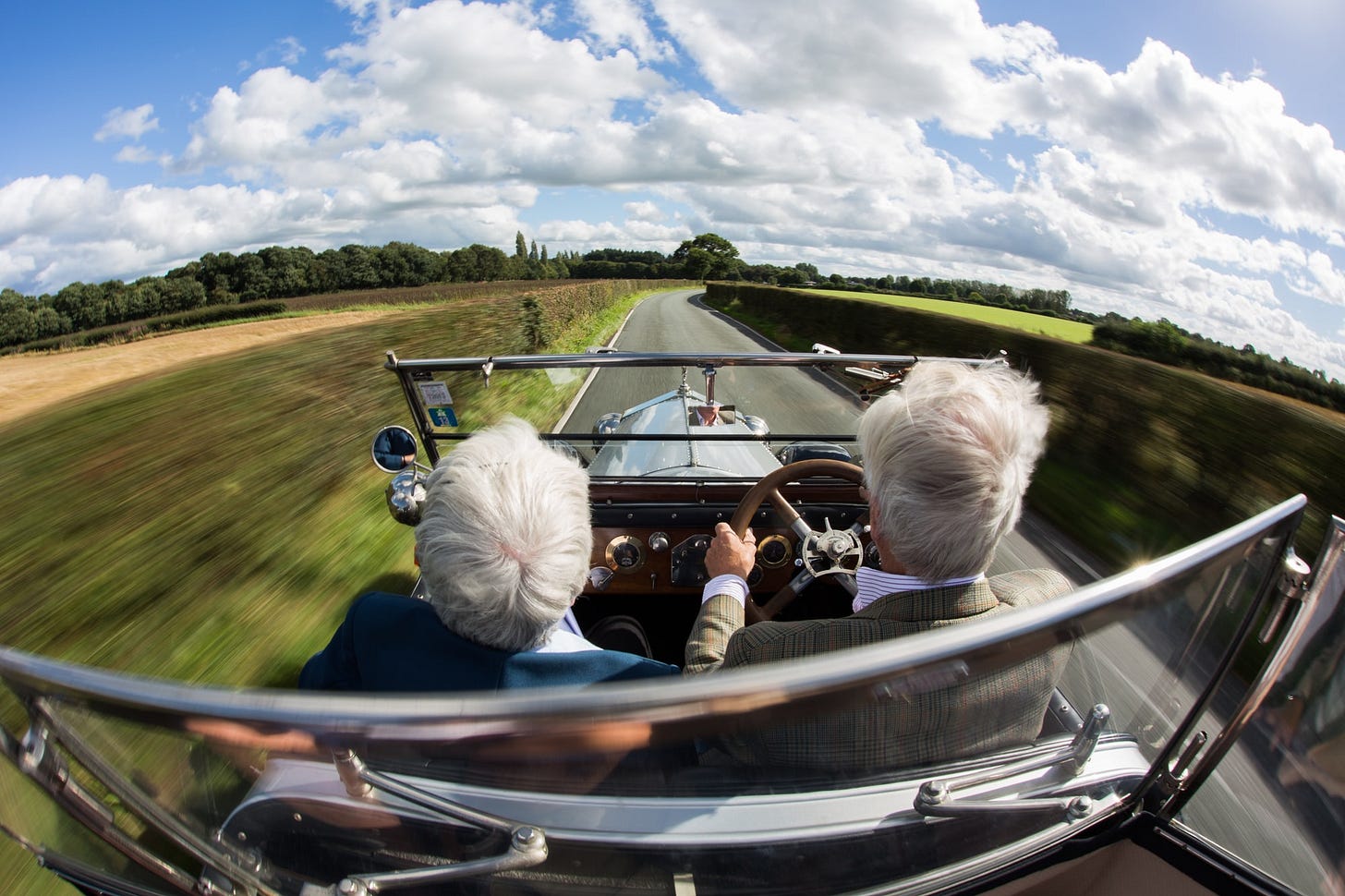 👋🏻 Hello friends,
Greetings from Saratoga Springs!
In honor of America's birthday tomorrow, I invite you to take it easy and enjoy this week's leisurely Sunday Drive around the internet.
Vibin'‌
The vibe of the week is Neil Diamond's America from the 1980 film, The Jazz Singer. Tomorrow, the Fourth of July, we celebrate the birthday of our country. While far from perfect, she still shines bright and inspires people by the millions to come and embrace the ideals of her founding - life, liberty, and the pursuit of happiness.
Happy Birthday, America! 🇺🇸
Quote of the Week‌
" Breathe. Let go. And remind yourself that this very moment is the only one you know you have for sure."
- Oprah Winfrey
Chart of the Week‌
Where are the cars? We've heard from numerous automakers that the reason for poor sales is not a lack of demand, but rather a lack of inventory. This lack of inventory is blamed primarily on supply chain disruptions and importantly, on the lack of supply of semiconductors. I find this hard to square with the poor year-to-date performance of the semiconductor stocks (see below).
Interesting Drive-By's
⏰  The power of compounding over time - Excellent blog post from Morgan Housel who compares endurance sports training to investing for the long term. Compounding is just returns to the power of time. Time is the exponent that does the heavy lifting, and the common denominator of almost all big fortunes isn't returns; it's endurance and longevity. "Excellent returns for a few years" is not nearly as powerful as "pretty good returns for a long time." And few things can beat, "average returns sustained for a very long time."
📈  Know what you own, and why you own it - This timeless interview with Peter Lynch from twenty years ago contains many pearls of investing wisdom. In my opinion, the investment of 14 minutes of your time to watch it will be very worthwhile.
💰  Many are leaving Corporate America to start their own consulting businesses - In a recent survey by reverse mortgage lender American Advisors Group, almost half (46%) of the more than 1,500 Americans aged 60 to 75 surveyed said they plan to work part time after they retire from full-time work. As I consistently remind my clients, "It's important to retire TO something, not FROM something."
📉  Semiconductor shipments to Russia have plunged 90% - Global exports of semiconductors to Russia have plummeted by 90% since the United States and allies slapped export controls on Moscow over its invasion of Ukraine, U.S. Commerce Secretary Gina Raimondo said on Wednesday. I'm not sure how much of global chip supply was being shipped to Russia before the sanctions, or what types of chips they were buying, but this is surely one of the reasons semiconductor stocks have performed so poorly this year.
🤓  Realtime view of the Starlink satellite constellation - Starlink is the global satellite company operated by SpaceX. Channel your inner nerd and check it out (I did!)
💭  Thought Bubble of the Week
This section of the Sunday Drive is intended to serve up seedling ideas which may ultimately grow into more fully developed pieces to be published on NewLanternAdvisors.com. I'd be most grateful if you'd share any thoughts, suggestions or feedback.
Late last year, I earned a certificate in Blockchain and Digital Assets from the Digital Assets Council of Financial Professionals founded by Ric Edelman. I had become crypto curious over the prior few years and wanted to educate myself on the how's and why's of investing in digital assets, both for me personally but also for the future clients of New Lantern Advisors, which I founded in 2022.
I felt it was important to be able to answer questions, propose ideas, and speak on the subject from a position of knowledge and credibility.
The certificate was worth the time and money I invested primarily because, as I learned more about digital assets, I became interested in the long term future use cases that will ultimately be enabled by blockchain types of structures.
Thanks, but no thanks... for now.
What I did not become interested in was "investing in crypto". Even in light of the significant declines - and in some cases, the actual demise - of virtually all cryptocurrencies, I'm still not ready to say this is an area to put investment dollars.
Here's why.
Earlier in the year, I was part of a group of fellow financial advisors which focused on learning more about digital assets, and potentially allocating a portion of client portfolios to them. The buzz around digital assets was at a fever pitch. During one of our weekly Zoom calls, I was asked - being the senior statesman of the group - what it would take to put client money into these assets. What would I need to see?
My answer was that besides more (any!) clarity on the regulatory and tax front, something more profound has to happen.
I said, "Put simply... They have to blow up first."
You see, early in my career, I lived through a similar cycle. During the 'dot com' bubble of the late 1990's, it was all new and unproven as well, just like today. The sky was the limit with this internet thingy, or so the buzz at the time led folks to believe.
But then the party ended, as all parties must, and the tech/telecom/internet stocks went down 70, 80, 95%, at least the ones that didn't go to ZERO. Pets.com was the poster child of "what were we thinking?" However, from the rubble arose the survivors. New entrants came into being that built on what was left. Companies like Amazon, Google, Microsoft, and Akamai, are examples.
I believe we will need go through the same boom, bust, and given up for dead cycle with digital assets. Perhaps this is the bust.
I'm very excited about the future uses of blockchain and digital assets. I firmly believe that many of the new use cases that will ultimately be built with them will be centered around more efficient ways of monetizing human capital.
For now, I rely on my experience as a professional investor for three and a half decades. To me, investment opportunities become interesting when people stop talking about them. People are still talking about crypto. So I'll wait... We have time.
---
If you have any cool articles or ideas that might be interesting for future Sunday Drive-by's, please send them along or tweet 'em at me.
‌I hope you have a relaxing weekend and a great week ahead. See you next Sunday...
-Mike‌
---
Join the other geniuses who are reading this newsletter.‌‌