Discover more from The Sunday Drive by Mike Allison
Weekly Insights from a Financial Provocateur | Mike Allison, Founding Partner of New Lantern Capital, LLC
Sunday Drive - 06/26/2022 Edition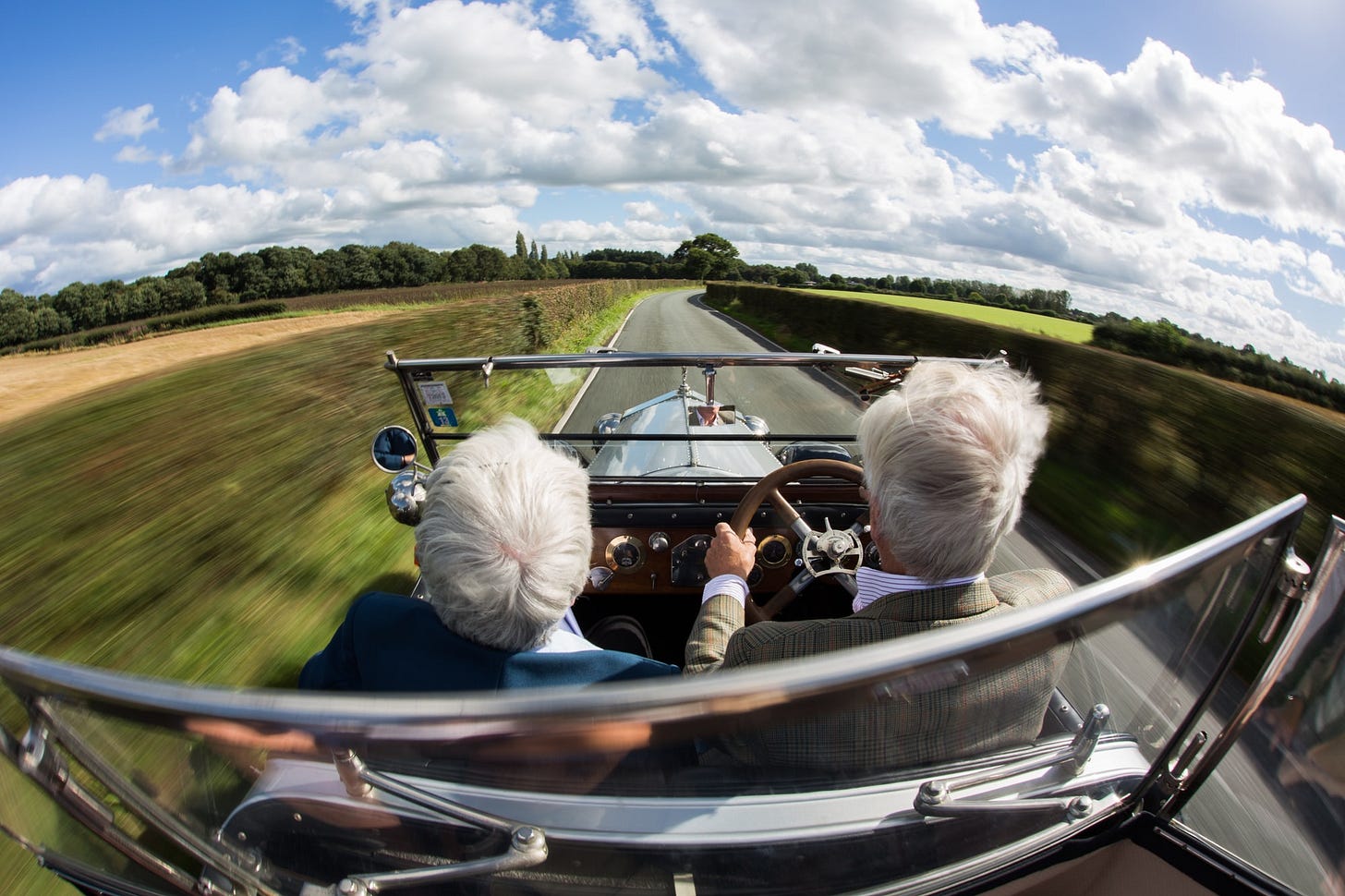 👋🏻 Hello friends,
Greetings from Saratoga Springs!
Take it easy and enjoy this week's leisurely Sunday Drive around the internet.
Vibin'‌
The vibe of the week is Earth, Wind, and Fire's That's the Way of the World. 'Tis the season of high school graduations and contentious court rulings it seems. Long one of my favorites, this song's message of hope, love and understanding seems quite timely and relevant. I linked to a version with the lyrics to make it easy to follow along if you'd like.
Quote of the Week‌
"You can get everything in life you want if you will just help enough other people get what they want."
- Zig Ziglar
Chart of the Week‌
The below charts highlight the degree of US wealth destruction in the year to date period. The bottom chart which frames the drawdown in the context of GDP, is particularly interesting.
Given that bonds have had the worst start to the year than any time in history, it is clear just how overvalued they had become during this most recent era of "free money". If the Federal Reserve is successful in slowing the rate of inflation, and/or we experience a recession here the US, we may very well have seen the peak in bond yields and thus the bottom in bond prices. 🤷🏼‍♂️
Interesting Drive-By's
🤔  How the Great Reshuffle is changing the world around us - An excellent 21 minute video from Jim O'Shaughnessy and his "Infinite Loops" podcast.
"All of our old models are collapsing. Information flow is accelerating so fast that we don't know what's going on most of the time. We've got to learn to put a lot of things in the "maybe" state and keep open minds." ~ Robert Anton Wilson
📈   Entrepreneurship Boom - Note: This article from Bloomberg may be behind a paywall for you. I've included most of the text below, in case you can't access it.
Women and minorities have been fueling the boom in business creation of the past two years in the US.
A survey found that almost half of 2021's new entrepreneurs were women, a significant uptick from 28% in 2019. And the share of new Black business owners tripled to 9%, according to Gusto, a payroll and human-resource management business.
Among the factors behind the surge in female entrepreneurship: child-care responsibilities. With schools and child-care centers still disrupted last year, a growing share of parents — particularly women — started their own business out of necessity.
💡  What a time to be alive - "Every single thing that we take for granted today would be nothing short of a miracle to anyone who lived just 100 years ago."  I'm really enjoying reading Young Money, a newsletter written by Jack Raines. I think you'd like reading his work and encourage you to subscribe (it's free).
💰  Cash as an inflation hedge - An interesting article from Morningstar which discusses the counter-intuitive notion that cash can be an effective inflation hedge, particularly when central banks are raising short term interest rates.
💭  Thought Bubble of the Week
Programming Note: This new section of the Sunday Drive is intended to serve up seedling ideas which may ultimately grow into more fully developed pieces to be published on NewLanternAdvisors.com. I'd be most grateful if you'd share any thoughts, suggestions or feedback.
Boom to Bust and back again...
Periods of excessive investment are abetted by the availability of cheap, abundant capital. This eventually leads to paltry returns as the investment cycle ages. The inevitable end of the party comes when the free money fuel runs out. When the bust arrives, much damage is done to the value of assets, both financial and physical, as well as to investor psychology. Recovering from the fallout can take years, or even generations.
However, even as the boom goes bust, the seeds of the next boom are sown amidst the wreckage. From the excesses of the investment cycle comes opportunity for investment in the next scarcity. Great investment outcomes are the result of investment of that which is cheap and abundant into that which is scarce.
A significant driver of the 1990's tech and telecom boom, which paved the way for Web 1.0, were the abundant rights of way owned by the railroad companies. These were the remaining nuggets of value from the railroad boom and bust nearly a century earlier. These rights of way allowed many new telecom networks to be built much more quickly than had those network builders (a number of whom were actually the railroad companies themselves) had to fight hand to hand combat with local officials for the rights to build them.
Likewise, when the tech and telecom boom went bust, there were thousands of miles of fiber optic cable networks that lay dark (just the fiber with no optical equipment), fallow and largely un-utilized. A few years later, Google and others picked up the fiber network assets for pennies on the dollar, mostly from network providers who had gone bankrupt, as had so many of the railroads in the prior century. It is difficult to imagine Google building YouTube as quickly as they did had they not had such abundant physical network assets readily available. The bust of the telecom boom set the stage for Web 2.0, and it looked nothing like the prior Web 1.0, which still had a lingering industrial economy feel to it.
Fast forward to today. Is now the next bust?
We contemplate the future of Web 3.0 and the next economy. What do they look like? Where do the areas of recent excess investment lie? What is the new scarcity in which to invest the fallow assets of this cycle, assets that might be picked up for "pennies on the dollar"?
I don't know that answers, but I suspect they lie partly in a re-valuing of human capital, a topic about which I've written a good bit. The demographic headwinds of population shrinkage in the developed world are starting to accelerate. The Great Resignation is making quality labor more and more scarce. Are we the new scarce asset?
Fruitful investment in longevity research, in personalized medicine, in healthy aging, in decentralized organizations could all lead to excellent human and financial outcomes in the future.
---
If you have any cool articles or ideas that might be interesting for future inclusion in a Sunday Drive, please send them along or tweet 'em at me.
‌I hope you have a relaxing weekend and a great week ahead. See you next Sunday...
-Mike‌
---
Join the other geniuses who are reading this newsletter.‌‌