Discover more from The Sunday Drive by Mike Allison
Weekly Insights from a Financial Provocateur | Mike Allison, Founding Partner of New Lantern Capital, LLC
Sunday Drive - 06/05/2022 Edition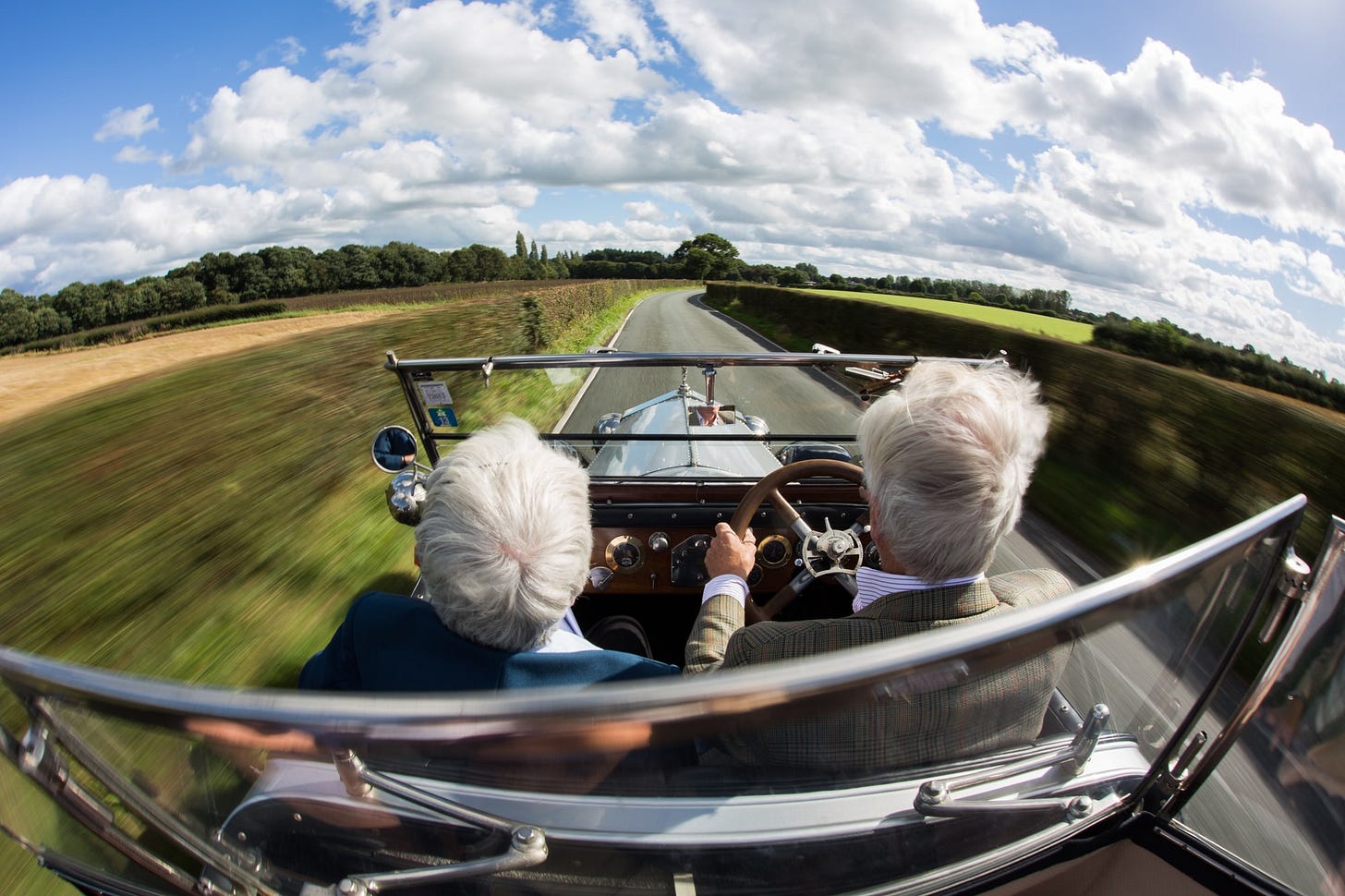 👋🏻 Hello friends,
Greetings from Saratoga Springs!
Take it easy and enjoy this week's leisurely Sunday Drive around the internet.
Vibin'‌
The vibe of the week is "It Keeps You Runnin' " by the Doobie Brothers. The soothing yet powerful voice of one of my heroes, Michael McDonald, coupled with the bouncy but even keeled groove of this tune gives shape to the investing environment we're living through right now. No need to panic, just keep running...
Quote of the Week‌
"Investing in this market feels like riding a bicycle with the chain off." - Me
Chart of the Week‌
The outsized contribution of corporate profits as a contributor to US economic growth compared to role of unit labor costs over the last couple of years versus the prior 40 years is significant and likely to revert back toward long term averages. I believe what we are starting to see is an upward repricing of labor at the expense of corporate margins. In other words, if we do have a recession in the coming quarters, it is more likely to be a profits recession rather than an employment recession.
Interesting Drive-By's
🤔  Building trust and assessing integrity - As I wrote in a prior edition of the Sunday Drive, trust is at a premium in the world in which we now find ourselves. The role of "the firm" in the future, if it is to have one, must be one in which building and sustaining trust amongst all stakeholders, and with their workforce in in particular, is a strategic imperative. But as this article reminds us, trust is a two-way street.
💰  The Conglomerate Problem - Matt Stoler writes about the wave of large mergers happening in the economy - such as Broadcom-VMware, Microsoft-Activision -  and the legal questions surrounding whether antitrust enforcers can stop them.
💡  In the future, every business will be a Ponzi scheme for 15 minutes - My friend, Dror Poleg, points out the importance of "audience first" in the future. Only unsuccessful designers will need an agency, only unsuccessful programmers will need salary-based based employment, and only unsuccessful ventures will need venture capital. The successful ones could tap directly into their audience and customers for promotion, funding, and a safety net. This is an exaggeration, but this is where we're headed.
⏰  6 Signs that you could live to 100 - As you know, I am very focused on the "X-axis" in terms of healthspan and wealthspan, and plan to write more and more about them over time. Elizabeth II, The Queen of the UK, has recently turned 96, raising the tantalizing prospect that she may soon make it to the big 100 – at which point she presumably has to send herself a telegram. 😂   After all, her mother reached the grand old age of 101, and for royalty and commoners alike, reaching 100 has always been an important symbolic milestone, something that allows you to say 'I've had a really good run'.
What I'm Working On
As I mentioned last week, in a few weeks, once we've launched the new New Lantern Advisors website, this newsletter will be coming to you from Mike@NewLanternAdvisors.com. Same content, different email.
As time goes by, more and more, I believe that the firm I started to help folks navigate the path from preparing for retirement to the transition to retirement - from getting a paycheck to writing your own paycheck - can take multiple forms. Originally I had thought that the only way to serve clients was to be all inclusive with comprehensive financial planning and investment management. As I learn more, and talk with more folks, I have come to believe that I can help, not only a select group of direct clients, but also a more broad and diverse set of "do-it-yourself" investors as well as fellow advisors in search of useful solutions for their own clients.
---
If you have any cool articles or ideas that might be interesting for future Sunday Drive-by's, please send them along or tweet 'em at me.
‌I hope you have a relaxing weekend and a great week ahead. See you next Sunday...
-Mike‌
---
Join the other geniuses who are reading this newsletter.‌‌